Body
The University of Utah is one of the top 50 research institutions in the United States. University of Utah Health of which the Department of Obstetrics and Gynecology is a part, promotes research of such quality and quantity as to ensure national recognition as a scientifically excellent institution. 
The U of U Health has consistently been in the top tier of obstetrics and gynecology departments for NIH funding. Grant and contract activity within maternal-fetal medicine over the last decade includes clinical research in preterm birth, recurrent pregnancy loss, stillbirth, antiphospholipid syndrome, substance use in pregnancy, placenta accreta, maternal congenital heart disease, preeclampsia, long-term cardiovascular health after pregnancy, and venous thromboembolism. The Division is now in its fifth consecutive five-year membership in the NICHD Maternal-Fetal Medicine Units Network (MFMU) and has also been a prominent participant in numerous other federally funded clinical trial networks and programs such as the NICHD Stillbirth Collaborative Research Network (SCRN) and the Nulliparous Pregnancy Outcomes Study: Monitoring Mothers-to-Be (nuMoM2b). The data and biological samples from these large research networks are available for fellowship research projects.
The Department also continues to focus its translational research on human genetics and immunology, working collaboratively with discovery scientists in these disciplines. Many current maternal-fetal medicine faculty have NIH-funded research. We have a successful track record of obtaining funding for fellows and junior faculty.  The University of Utah is currently one of fifteen sites of the Women's Reproductive Health Research (WRHR) Career Development Program, which is a training grant from the NIH to provide junior faculty with 75% protected time for research and mentorship as they pursue independent funding
Summer Curriculum/ MSCI Course
Fellowship begins with a six-week summer research curriculum in epidemiology, data management, bioethics, biostatistics, and genetics. Our curriculum provides the necessary skills to begin your transition into an independent clinical investigator and gives you time to settle into your new home in Salt Lake City. 
These summer credits can be applied to the Master of Science in Clinical Investigation (MSCI) or Master of Public Health (MPH) degrees. 
Unless you already have an advanced research degree, we strongly encourage you to complete the MSCI or MPH by the end of fellowship. Over the last five years, have completed an advanced research degree.
Recently Published Fellows Research
We are extremely proud of the quality of research our fellows produce. Each year our fellows present their research in oral presentations and poster presentations at national and international conferences, including SMFM, ACOG, SRI, and others. Find a link to our recent fellow-led publications indexed in PubMed, here
Mentorship
Each fellow is assigned 1-2 mentors when they start their fellowship. Mentorship is reevaluated at least annually and fellows are encouraged to develop their own personalized mentorship team to optimize their developing research interests. Strong clinical and research mentorship is one of our program's greatest strengths.
Research Support Services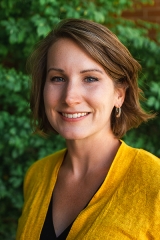 Hi, I am Amanda Allshouse and I am a biostatistician. I would like to share a bit about my role, what I love about the work,the research environment and culture. My home is in the division of maternal-fetal medicine in the department of Ob/Gyn. I work with the residents, fellows, and faculty across all phases of the scientific process. My contributions to each collaboration can include early vetting of hypotheses for feasibility, study design, support in grant writing, data infrastructure support, analysis, creation of tables and figures to bring results to life, interpretation of results, and iterative abstract and manuscript drafting.
Specializing within MFM has allowed me to become more of a content expert for working with the nature of data and appropriate methods for this population, but with every research question there is always more to learn. I love the constant push to learn and grow and expand with different methods to meet new hypotheses.
I appreciate the strong support of clinical research across the department. Existing infrastructure advances research rooted in public health: social determinants of health, achieving health equity through reducing and eliminating health disparities, and improving patient-reported outcomes, through prospective studies, analyses of existing databases, and linage to state-wide population data.  Decades of senior faculty's dedication to active participation in research networks has yielded access to a large bank of biospecimens linked to well-characterized clinical populations.
The organizational culture within the department is key in its success. The attention to ensure each person's contributions are valued and appreciated is fostered from the top down. Opportunities for mentoring, peer support, and constructive feedback are easily accessible and routine. Clear and regular communication create accessibility across the all faculty that make research meetings synergistic and productive. 
If you are considering Utah, I am happy to talk or answer questions to help you in your decision making process.   
In addition, the Department houses the Obstetrics and Gynecology Research Network (OGRN) which provides research infrastructure to support grant pre-award activities such as grant writing and budgeting, post-award activities such as managing the financial aspect of the grant, and a regulatory compliance manager to assist with IRB submissions and renewals. The Associate Director of Research, Kathy Harvey, works closely with the Vice-Chair for Research, Dr. Torri Metz, to lead OGRN. https://medicine.utah.edu/obgyn/research/obgyn-research-network/
Externally-Funded Research (NIH and CDC)
everal maternal-fetal medicine faculty have CDC or NIH-funded research. We have a successful track record of obtaining funding for fellows and junior faculty: Three junior faculty currently hold NIH K awards (training grants). 
Current NIH and extramural awards include:
Einerson (MFMU supplement, training grant)
Theilen (AAOGF SMFM)
Smid (NIH K12, CDC MAT-LINK)
Blue (NIH K12)
Debbink (NIH RSDP)
Esplin (MFMU Co-I)
Metz (MFMU PI, CDC ERASE, NIH OPRU Site PI, NIH R01 PI, CHAP Site PI)
Silver (NuMOM2b-HHS PI, SPAN PI, MFMU Co-I, WRHR PI)
Varner (MFMU Alternate PI, WRHR Program Director)
In 2019, the University of Utah Department of OB/GYN was awarded $6,174,311 in NIH funding; the Maternal-Fetal Medicine Division was responsible for $2,785,015.
We have also been a site in the Maternal Fetal Medicine Unit (MFMU) Network since 1996 (Dr. Metz, PI; Dr. Varner, Alternate-PI). Numerous fellow papers and presentations have resulted from secondary analysis of MFMU Network data. 
Multi-Center Research
The MFM division participates in other NIH-funded multi-center research including:
Stillbirth Collaborative Research Network,
Genomics and Proteomics Network for Preterm Birth Research,
NuMoM2b Network,
NuMoM2b Heart Health
EAGeR Trial,
National Children's Study,
Consortium on Safe Labor,
and FASTER, among others.
Basic and clinical research projects under the supervision of Maternal-Fetal Medicine faculty have repeatedly resulted in Society for Maternal-Fetal Medicine (SMFM) oral and poster presentations by current and past fellows.